Big Cruisers 4 Me
Thread starter
Joined

May 24, 2016
Messages

3,794
Location
Ride

2007 Rocket III
If the boot is ok you should be able to use either grease or dry lube, I feel certain that mine started freezing up simply through grease drying out and dust /dirt entry getting past the boot. I just kept spraying it with penetrating oil and working it until it freed up, flushing out all the crap. I haven't put any other lube on the pin since (over 12 months ago - 10,000km) still good.



If the pin does not slide in and out real easy then its a problem, you need to clean it up and get rid of the corrosion and dirt particles and assemble, lube and make sure the boot is ok and go again, just remember it must float / slide on the pins real easy.
There is no dirt just sticky pins. I placed grease in there a while back and that is not a good thing to do. The pistons were bad but the whole problem started with lubing the boot where the pin slides.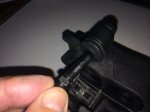 At the same interval as changing the rear tire and lubing the splines, the rear caliper base and caliper need to be separated and the boots cleaned. If you go to your bike and you can't slide the caliper in and out easy, your rear disc and caliper and probably running hot.