Joined

Dec 28, 2014
Messages

300
Location
Ride

2005 Rocket 3
HEY MR. CT there are other Rocket owners that get a lot more miles out of the MOTORCYCLE tires than I do so you guys are are the BS artists and who cares what kind of fairy tales you tell about burning up MC tires only proves you guys are not the norm but the extreme so you need to run CAR TIRES or take driving lessons BUT if your riding like a road racer then your going to burn up tires so I think you guys need some riding instruction if your ruining tires as you say just riding normally on public roads BUT I think its all fairy tales LOL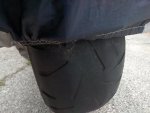 This is not the fairy tale version. Around 5000 on this Excedra Max.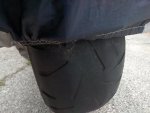 Over 5000 Commander II on TBird.
I'll admit you're right. I don't have a picture at the moment but my wife's 1100 Shadow has 8000 on a Metz and still has 75℅ left. So you can get 10000 out of a Metz. Tire.