Joined

Aug 5, 2020
Messages

62
Location
Ride

2007 Rocket III Classic
So... I made a previous post here before I bought my bike.. Now that I actually have it, I figured I'd make a proper introduction..
So, I live in Bucks County Pennsylvania, about an hour out of Philadelphia. I rode bikes from the time I was 16 until about 30 when we had our daughter and I switched to dune buggies for a while. Decided it was time to get a bike again. I found a 2007 Rocket III for sale in Virginia and Saturday afternoon we dove 3 hours to check it out. We met the guy at a storage facility. When he unlocked the shed and pulled it out, the bike LOOKED phenomenal! It barely looks used at all. We made a deal and I brought it home last night.
Took it for the first real drive today and wow, what a bike. I now know what 'effortless acceleration' means and yet it handles well too.
Here's a pic from yesterday after we loaded her on the trailer, forgot to grab one today..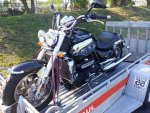 One quick question, I see a number of different model options when I'm looking for accessories (ie. R3 Classic, R3 Roadster, R3 TFC, etc) Which one do I have?