Joined

Jul 25, 2014
Messages

6,535
Location
Ride

'21 Z H2, '14 R3R, '02 Daytona 955i
Just using this to consolidate and preserve (for my own use mostly), the process of modifying my Z H2. (Pictures to follow from phone).
Thoughts as delivered: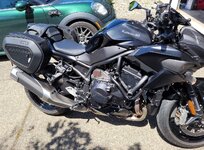 Power is over the top. Kawasaki was insane to deliver this motorcycle to the public: it's flat out probably the most dangerous bike in stock form in the last 20 years, the previous bike being the TL-1000S/R. The Z H2 doesn't come with a steering damper stock, a horrible decision on a bike with a 57.2" wheelbase and 180whp/90ft-lbs at the wheel stock, with gearing fit for a 600 sport bike. It's not the most powerful stock bike, it's not the lightest stock bike, but geometry + power + weight + seating position = the net result of wheelie wheelie wheelie wheelie + wobble wobble wobble.
1 - First up is the steering damper installation, I bought a HyperPro RSC damper and fitting kit. Initial thoughts, huge help. It takes the high speed violent oscillations of the bar and turns them into manageable low speed oscillations. While not ideal, paired with wheelie control, I deem it acceptable. The root cause, KRTC setting 2, should still be avoided, either go to level 1 and accept the 1 foot hover wheelie or go to mode 3 and accept the reduction in torque but no wheelie; level 2 puts the wheel about 1" over the ground and skipping off bumps triggering wobbles.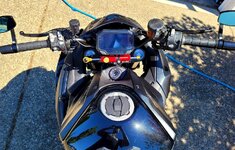 2 - Next issue is weight. At 529lbs with only a 90% full gas tank, that translates to about 540lbs fully topped off. To address this I've taken a few routes some installed, some in the garage waiting for installation: ACF Protaper bar (-1.5lbs), rear peg mounts removed (-3.5lbs), lightweight steel rear sprocket instead of stock (-1.5lbs), tail tidy and reflector removal (-1lb), tool kit delete (-1.5lb). Remaining to arrive in shipping or be installed are: Titanium 2022 ZX10R exhaust + decat link pipe instead of stock stainless exhaust (-19.5lbs), LiFePo4 Battery (-6lbs), lighter fuel cap (-1.1lbs), various Titanium fasteners instead of Steel (unknown loss), full carbon bodywork, lighter rear Brembo caliper and carrier (-1lb), BST Carbon Wheels (-11lbs), switch to Michelin instead of Pirelli tiers (-1.5lb). Total weight loss potential resulting in a fully fueled weight of ~491 lbs once all items complete. As of today, I weighed the bike "over" full of gas, and it came out at 521 but much of the above list is not yet installed.
One brave soul has made a track only version of the Z H2, with a fully fueled wet weight of 458 lbs, but, that removes a lot of features like ABS to get there and I'm not willing to do so on a street bike. My ultimate goal is ~480lbs wet and fueled.
3 - Next most critical stock issue relating to performance is the gearing. Kawasaki decided the Z H2 should have short gearing internally and moderately long gearing on the front/rear sprockets using 18/46, the resultant top speed is 176mph (GPS), and an indicated 186 mph. The problem with this is just how short 1st, 2nd and 3rd are, they're not long enough to fully leverage the increased torque the engine produces compared to an NA liter bike. They enable too much wheelie potential resulting in KRTC cutting power to keep the bike from looping in the first 3 gears. To correct this I've switch to 18/43 gearing, and have a 19T front gear on hand which will be installed on Wednesday. Total gear reduction will be about 11 percent. The total gearing change results in the 5th peak speed being equal to the stock 6th gear peak speed, and the new 6th gear peak speed being 199.5 mph. This essentially shifts 6th gear into an overdrive role, meaning play will be done in 1-5 instead of 1-6, reducing the need for KRTC intervention in 1,2,3 and allowing the bike to actually put down the power it makes. While this wont help on a drag strip, it will help on the street; 1st gear is good to 88 mph, 2nd to 109mph, 3rd to 131 mph.
4 - Next issue is the intake temperatures. With a supercharger making 14.7 psi peak and no intercooler, the inlet air temperatures are unbelievably high, cruising down the freeway at 80mph the inlet temperatures are ambient + 50f. So in 90f weather, cruising inlet temps are 140f!! Now that's not so bad; but try and run 110 mph or higher for an extended period and you run into the issue. Averaging 123mph for a tank of gas, my inlet temps ranged from 170f to 220f! Imagine the timing retard required to keep 1 BAR of pressure safe with a 220f intlet temp on an 11.2 Static CR engine, jesus, no wonder the bikes drop 20hp as soon as ambient hits 90f vs 60f dyno pulls.
In order to fix this, an intercooler is necessary. Extreme creations to the rescue, they have an air to water intercooler with auxiliary radiator to help cool the charge temperatures; it's a 37f drop in inlet temperatures. This will be the first major modification to the bike I'll be making; targeting September to get it done. It also happens to be critical for flashing the ECU and making around 230whp on pump gas in hot weather. ECU flash and more power are not ruled out, but not my emphasis at this time; I simply don't see the need for 230whp on a bike that already struggles to put down 180 in the first 3 or 4 gears (weather dependent).
Last edited: