Joined

May 3, 2011
Messages

3,143
Location
Ride

Roadster
Since installing the black Triumph mirrors I have had vibration to the point where I can't see in them clearly at most RPMS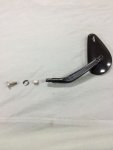 . I decided to take them off and see what the problem was or try to find a better way of installing them so they will not vibrate. What I found was the tolerance rings was crushed. I must have did something terribly wrong when I installed the black mirrors. So I decided to buy new tolerance rings and wave washers to basically start over from scratch. When I got the parts in hand I took the mirrors off and carefully tried to mount the mirrors with new the rings. Upon doing so I find it very difficult to mount the mirrors with the rings. If I assemble the ring on the mirror and try to put in the slot it will not go far into the hole. If I even try to tighten it down I will end up with a crushed ring like before. So I decided to place the ring into the hole first but the ring will not allow the mirror to go inside. Basically the same thing I get when I put the ring on the mirror first. I even put a thin layer of grease on the stems and rings hoping that will aid in the install but it's so tight that grease isn't going to do much good.
Now I have been told not to use the rings at all but when I insert the mirror stem in the hole there is a lot of play. Or is the black mirrors even use the rings? My old mirrors (round mickey mouse mirrors) are boxed up in my attic and was thinking about getting them down and having a look but I thought surely the mirror stems are the same diameter as the black mirrors.
Anyone know the correct method of mounting these mirrors besides crushing the rings?